Out of the box, CarVue comes with some basic account set-up of nominal codes and payment methods.

But we know that you may want to tailor the financial side of your business, so we built that functionality into CarVue's settings so the system is super flexible...

To edit your accounts settings and payment methods, head over to 'Settings' (top right hand corner) and then select 'Chart of Accounts' from one of the links shown below.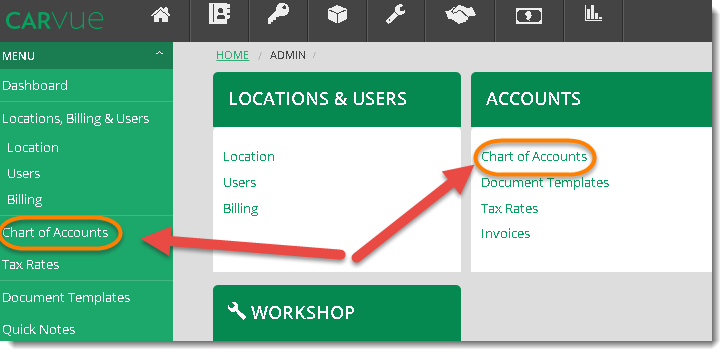 CarVue comes equipped with the basics to get you started setting up to buy & sell items in your business, with the following account names and types:


Expense e.g. Cost of Sales, other purchases
Revenue e.g. Vehicle Sales, Parts Sales, Labour Sales, MOT etc
Liability e.g. Tax
Asset e.g. Bank, credit cards, Paypal, vehicle purchases
Equity e.g. for stock vehicles
To edit any of these accounts, simply change its code, type or name and click the green icon on the right to save it




You can enable or disable the account by ticking/un-ticking the 'Active' flag as appropriate.

If you want this account to show or hide in your dashboard accounts view, simply tick or un-tick the 'Reports/Accounts' box.
The account's widget will then either show or hide the selected account on your dashboard, as below:




Selecting the 'Payment' tick box will make your chosen account appear in the account drop-down when choosing payment options on invoices.



Here's a little example...

You start to take payments against your invoices, and payments to suppliers via PayPal's online payment provider. Here's what we would suggest you need to do:

1. Create a new account in your Chart of Accounts (Settings > Chart of Accounts) 

2. Select 'PayPal' as the name, Asset as the Account Type, and tick the Enable Payments to/from this Account




3. Click 'Add' and you will then be able to select this account in the account drop-down of the payment section on your invoices and purchase orders. We'd suggest selecting the 'Online' type of payment.

 

Want to know why only certain accounts are available for selection on your Job cards, invoices, credit notes or purchases? Click here for an explanation...