Our smart contact import wizard enables you to bring your contacts from another system or spreadsheet in just a few short minutes.

You can add contacts from any source as long as the data is in CSV file format and has a heading for each column (a header row). 

CarVue is able to map your data to any of the fields below. If you use the same field names in your header row, we'll be able to pick up the column and map it automatically to CarVue fields.

Title
First Name
Last Name
Postal Attention
Postal Address 1
Postal Address 2
Postal Town/City
Postal Region
Postal Postcode
Billing Attention
Billing Address 1
Billing Address 2
Billing Town/City
Billing Region
Billing Postcode
Tel
Fax
Mobile
Website
Email
Tax Name
VAT Number
Company Name
Reference

To quickly add your contacts into CarVue go to the Settings page and select Import Contacts.
Then simply follow our 4 step guide below.


1. Choose your file

Click Choose File and locate your CSV file. Make sure your data has a header row (row 1). This is really important as if you don't have a header row, we'll take the first row of your data and assume it's a heading! 
Select Start Import to move onto step 2. 



2. Map the data columns for CarVue

CarVue uses smart matching to help match up the fields, so any we pick up automatically will be indicated with ticks. Use the drop down boxes to map the rest of your fields against CarVue fields and select which columns to import. Any fields you don't want to import simply select on the drop down 'Don't Import'. Ensure you have mapped a field against Last Name (this is a must for the import) before you Save and Continue.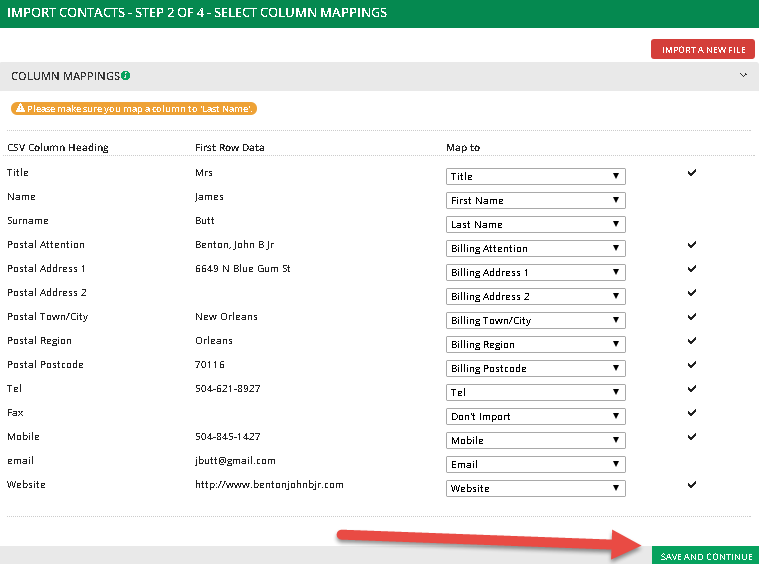 3. Pick default contact name display

Select how you would like your contacts to be displayed at key places in CarVue. You can choose either First Name Last Name (Company), or simply Company. This will be used across CarVue and can be edited on an individual basis for each contact if you want to change it at a later date. You can also review the field mappings you chose in the stage before at this time. Once you have made your selection move onto the final stage by clicking Save and Continue.



4. Review and Complete Import

Our Import process will now take a quick look at your data and let you know if there are any issues. If there are, we'll show them to you at this point. Review any rows that are not going to be imported due to invalid data, e.g. an email address in the phone number column. 
Click Complete Import to finish the process. 

If you are importing a large amount of data, please note this can take a few minutes to load.


Can I import more than one file?

Yep. You can import as many files as you like and we will add them in to your contacts. But be careful: if you import the same sheet more than once or another data source with some of the same contact data, you will end up with duplicate contacts.