Once you have signed up and verified your email and created your location, you'll land on the CarVue dashboard.

The navigation around CarVue is simple and logical: simply hover over the module (e.g. Contacts, Vehicle...) you want to go into, select an option from the dropdown and get started that way.

To get you started on the system, and completing some common first tasks, we've produced a 5-step quick start guide to get you up and running really fast with CarVue...
1. Add a contact

You are able to add a contact by several methods, whether on the 'add jobcard' page, via the contacts dashboard, or from any contact supersearch or importing your contacts.
With adding new records to CarVue, we always recommend performing a search first, to make sure you won't be creating a duplicate.

Want to know more about adding contacts? Click the link Add a Contact
2. Add a vehicle

As with contacts, there are various places in CarVue that allow you to create and save a new vehicle to your location. You can search and add from the homepage supersearch, via the vehicles module or the add job card page.

Since you've just been and created your first contact in the first step above, let's show you how easy it is to attach a vehicle to the contact you just added. Select your contact by searching for them, and click on the pencil icon by 'Current Vehicles'



In the vehicles section, carry out a search for your vehicle and hit '+ New Vehicle'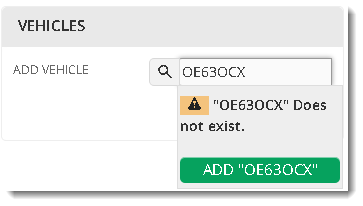 A Pop-up window will open up. Enter in the vehicle's details in as much detail as you can (and if you're using the UK edition, use the registration look-up facility to pull back rich vehicle data automatically) and then hit save.



Scroll to the bottom, click 'Save' and then close the pop-up window. The vehicle you just created will be shown below the search. Simply click the green '+' button and your new vehicle will be added to your contact.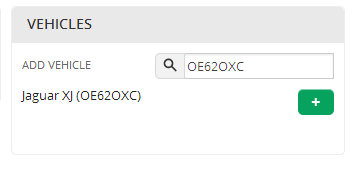 Of course, the vehicle can be added without being attached to a contact. It's up to you when you attach it to a contact, and you can do that at a later date by either editing the vehicle




Want to know more about adding a vehicle? Click here.
3. Add a Job Card

Once you've added a contact and vehicle, you can simply head over to the Workshop menu and select '+ New Job Card', or from various other places in the application.

You can also use the add job card process to add and tie together contacts and vehicles.




Read more about adding a new job card here...
4. Build up a job card with job details

Click here for for our full guide to building a job card...


5. Generate an invoice from a job card

Once you have built up your first job card, invoicing couldn't be simpler!

By selecting the lines you want to bill, and then selecting 'invoice', you'll generate a draft invoice in the system. Once you're happy, you can then commit this, and print/display/email your final document. And remember, invoice templates (and other CarVue docs like job cards, purchase orders and credit notes) are customisable, so you can add on your company logo or move things about to suit your needs. Read more about customising templates here.

Click here for the full guide on creating an invoice from a job card.