T-cards are a mainstay of the motor industry, and part of the reason they still exist in our increasingly digital world is that they are a very effective visual method of managing processes in busy departments. Being able to see your whole business, from booking, to assignment, to WIP, to out the door all in one place has helped workshop controllers and managers alike for many, many years and is a tried and tested solution.

We love the simplicity and overall control a T-card board can bring to a workshop, and that's why there's now a T-card board option available, to compliment the job list and diary views.
Where to find your Workshop T-Card Board

To access your T-card board, head to the Workshop menu in the navigation from any screen or click the button from the Workshop Dashboard...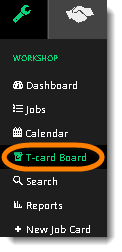 You can also toggle between different views wherever you might be in the Workshop module by looking to the top right of the screen, where you'll see icons for Calendar, Job list and T-Card.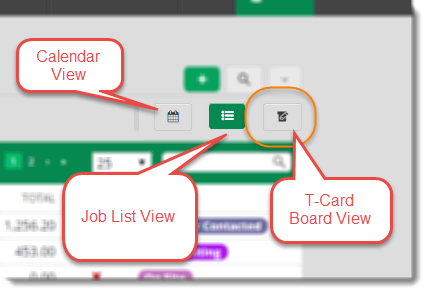 Workshop T-Card Board : an explanation

So you've clicked in to view the T-Card board view. Here's some quick pointers to what things mean and do...


Each of the headers help identify the different Jobs within the process. 

a)

Unconfirmed 

will be all Quotes or Jobs not committed

b)

Selecting the Awaiting Arrival will make the search only show you Vehicles Awaiting Arrival

c)

Click the On site/Off site button to review all the jobs. This will show you all jobs Onsite and different Status they are in, in the workshop.

d)

By clicking My Jobs to see only the jobs you have been assigned.

e)

To select the Completed you can view all the Jobs that have been flagged as completed for the day.

Use the filters to instantly change the look of the board...You can do a word search across advisor, vehicle or customer, as well as filter a specific advisor's jobs, any jobs due out in under 1 hour, overdue and invoiced jobs.

Under the different colour headings (you can change these in Settings), you'll see a job card summary for all jobs with that status in your workshop. Simply click anywhere on the T card to load the job!
Here's a breakdown of what the info you see on each T-Card means, you can also click the 'Help' link to see this at any point too.



 


Want to know how you can add or edit workshop statuses? Click here...
Want to configure the layout and colours of your T-Card Board and headings? Head here...