In this guide, we show you how to build a job card up with your repair items.

To edit general job details, use the top half of the job card. Click here for more info on how you do that.

Repairs are located beneath the Job details...

There are two methods of adding lines to a job card: as a Repair and as an Item. 

An item can be anything that you are selling (Parts, goods and labour items that you can set up in Products) or anything else that you want to charge a customer for. A repair refers to a piece of work you carry out in your workshop and will generally contain multiple items grouped in the repair. 

To add a repair to a job card, simply hit the 'Add Repair' button.



A new repair box will appear below




1. Select the Repair Type (these can be set-up and configured in Admin) 
2. Enter a description of the repair
3. Add any notes pertaining to the repair 
4. Internal notes for the technician 
5. Assign a time if you want.
6. Then just hit the green '+' button

Your repair line gets added to the card. You then need to add in items to the repair...




Hit the +NEW ITEM button




The ADD ITEM box will appear.

1. Type in the item into the product box. 
If it's a product already set-up in CarVue, the Supersearch will find it. Select it or if you want to add a new product, click '+New Product'. Alternatively you can just type in the item name and it will add in the item as a one-off to the job card. 

If you add in new items as products it will enable future shortcuts - you can add a default account and cost for the item which will save time when processing jobs. In CarVue, you're also able to create time-saving packages, bundling together common parts & labour products for quick and easy selection on job cards (e.g. for Annual Services, Brake pad replacement etc)

2. Enter description & price. 
If you've selected or added a new product, the description and price will get pulled through automatically from the product details. Simply enter the quantity.

3. Pick an account from the dropdown list. 
This will default to the Sales account  defined for the product and the accounts can be configured in Admin.

4. Select a Repair to add the item to. 
This will default to the most recent repair line you have added.

5. Hit the green '+' button. 
The item will then be added in to the repair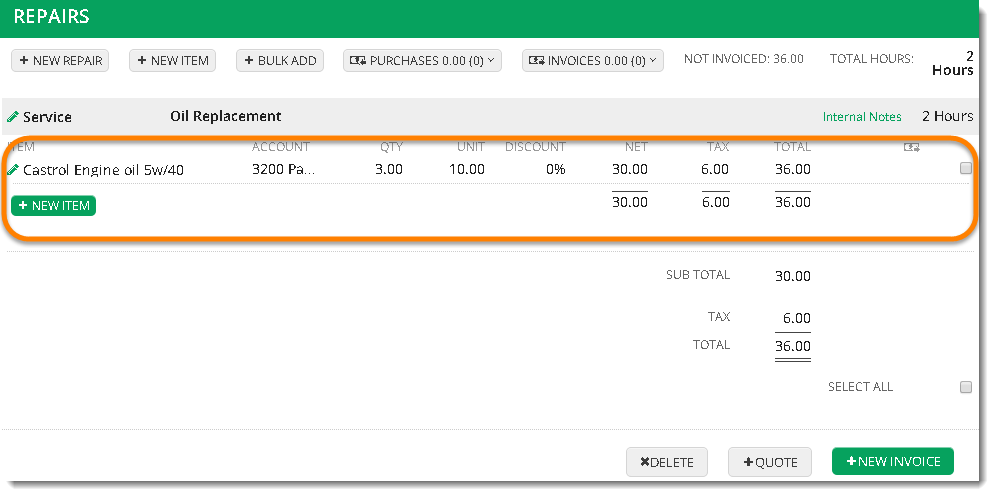 You can also add items not linked to a repair if you want to. 
Simply select the 'NEW ITEM' link at the top of the Repairs section and select '--NO REPAIR--' from the Repair drop down.