Using the text messaging feature in CarVue is a fantastic way of contacting your customers, suppliers and employees alike to deliver a message instantly to their mobile phone.

Whether it's from a job card, vehicle, invoice or contact record, you're able to send a text message to a contact, and for that message to be securely time-stamped and saved against whichever record you happen to be in.*

Text messages can be sent from the following pages where you can add notes in CarVue:

- Contact Edit
- Job Card Edit


1. Go to the Notes section of the record
- In the Job Card
- Or on the contact edit page


Hit the button next to the mobile number dropdown menu and then select the mobile number you wish to message. Contacts can have multiple mobile numbers stored on their records, so simply choose the one you want.
If you don't have a valid mobile number stored against your contact, you'll see a prompt like this and will need to navigate to the contact record to add a number.


2. Compose your text message

Now type your message into the box above the phone number.



If you have 'Inbound' messaging selected in your set-up then you'll see the number your message will be sent from beneath the contact's mobile phone number (as per above image).

If you have 'Outbound Only' messaging, you'll see the name you chose during set-up (example above). This can be changed to any name of 11 characters by following the text messaging set-up guide here.
3. Hit the button to send your message

Then hit the + button and your message will get sent, and the content date-stamped and stored in your conversation stream below.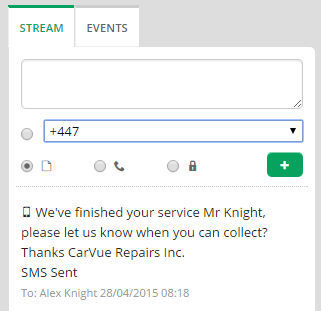 Your message will get delivered to your contact's phone...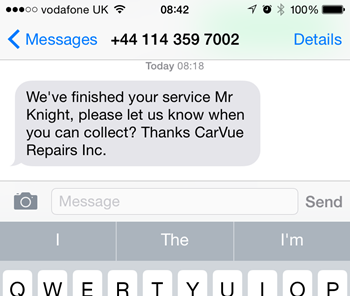 Receiving a text message reply

If you selected Inbound messaging during set-up and your customer replies to your text, you'll see a speech bubble notification in the top right of the navigation bar when you navigate to a new page or refresh your current page.




Hover over the notification icon and you'll see where the message has come from...




...and you can click the notification to be taken straight to the record where you can view the reply in the conversation stream.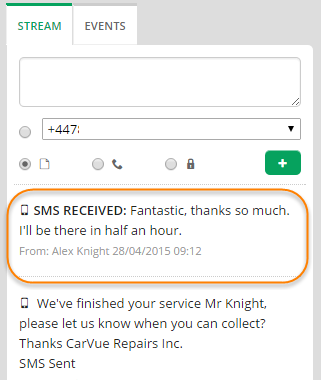 * Please note that text messaging functionality is available for all CarVue versions. For inbound messaging, sometimes a slight delay of up to 10 minutes can be experienced receiving a reply back into CarVue.